Hi There,
When upgrading from version 3.1.1 to version 3.2, despite having the default date filled in on the plugin (and it rendering on the screen), it appears as "empty" when I use it in a condition for allowing a button to be clickable. When I roll back to 3.1.1 the issue goes away.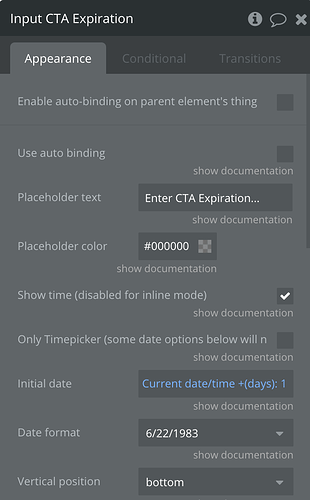 When upgrading from 3.2 to 3.3, Bubble throws an error:
The plugin Air Date/Time Picker / element Air Date/Time Picker threw the following error: TypeError: instance.data.fn_initializeCalendar is not a function
at eval (PLUGIN_Air-Date-Time-Picker-update–Air-Date-Time-Picker-.js:483:23)
at https://dhtiece9044ep.cloudfront.net/package/run_debug_js/b84705c0a3e63cbf81c2624c6a3a62be86299b05af54dff9347efdc9fc344eac/xfalse/x12:15:477840 (please report this to the plugin author)
For now, I am staying with 3.1.1, but desire the "OK" functionality.
Have these issues been identified previously? Any ideas?