Instead of displaying datepicker, it works as an Input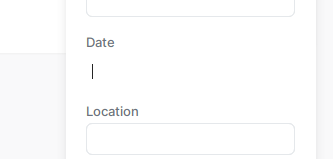 Hi @volodymyr.nocode, thanks for reaching out.
We've tested plugin functionality on our end, and it works well.
Allow me to recommend checking/comparing the settings between your app and the demo editor page: https://bubble.io/page?id=seanhootsdemopro&name=airdatetimepicker&tab=tabs-1
In case the issue will persist, please provide more details.
Namely, screenshots and/or screencasts of your setup - workflows, plugin element settings.
Looking forward to your reply.
Regards,
I had the same issue you are describing when i upgraded to the most recent version (3.3). I got rid of the issue by going back to version 3.2. Hope that helps!
Dear @timtom212 & @volodymyr.nocode, our developer team is preparing now a bugfix/plugin update that should solve the issue with the 3.3.0 version.
Once it will go live, we will notify you.
Thank you for understanding.
Regards,
Hello, @timtom212 and @volodymyr.nocode!
We have just made a new plugin update. Please upgrade your plugin to the latest 3.4.0 version and give it a try. Don't forget to refresh Editor.

Have a good day!
Thank you for your quick work on this! I've updated to 3.4 and the original issue is fixed.
Dear @timtom212, you're welcome
In case you would like to share your opinion about this plugin with the Bubble community, we will be glad to receive your honest review on the plugin page on Bubble.
Find the plugin by name and it gives it as many stars as it deserves

The more feedback we get, the more motivated we are to make things better in Bubble.
Take care!
Regards,