Hi! My compressor suddenly stopped working… any clues? Does anyone else experience this?
Br, Endre
Hi @endrefyl, thanks for reaching out and reporting this issue.
Allow us to check internally with the developer team and come with feedback asap.
It would also help if you can share more details, here or on DM, a screenshot/screencast of your use case with opened browser console.
Looking forward to your reply.
Regards,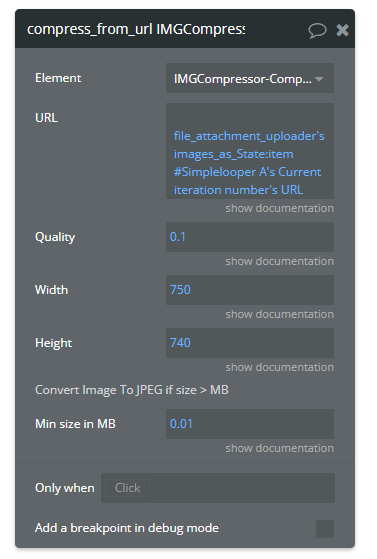 It seems like this step isn't creating any data. I have a state that counts this result which has worked the last 3-4 weeks. But suddenly it just stopped creating any results.
Hi! Don't know how much more info I am capable of providing, but I can also show the debugger. It seems like the compression itself doesn't respond in a normal way. I don't know if it's the post or get that creates the error/missing data.
This state did get value before (temp = file):


Hi @endrefyl, thanks for the provided screenshots.
I've passed them to the developer team for consideration. Once any news or update will come to live, I will let you know asap.
Regards,
Hi @endrefyl, thanks for your patience.
We've fixed the issue with the "Any Image Compressor" plugin and now it should work properly (no plugin update is required).
Please check it on your side and let us know if it is working properly, or any other plugin-related help is required.
Have a nice day!
Regards,