Hello,
The default way of making bookings in Booky is via the calendar. Customer picks timeslot, sends request which the business can then accept/reject.
I'm trying to move this process to the inbox. Ideally I would get the booking flow to the following:
Customer messages business with enquiry
They go back and forth and agree on time/place for service
Once agreed upon, BUSINESS sends customer message that includes link where they can pay straight away (without having to go to bookings section)
I'm having trouble with this. My idea is to have a second button next to "send a message" that only instructors have called "book lesson"
When the details of the service are agreed upon, the instructor would click on this and be brought to a popup window where they can choose the time/date.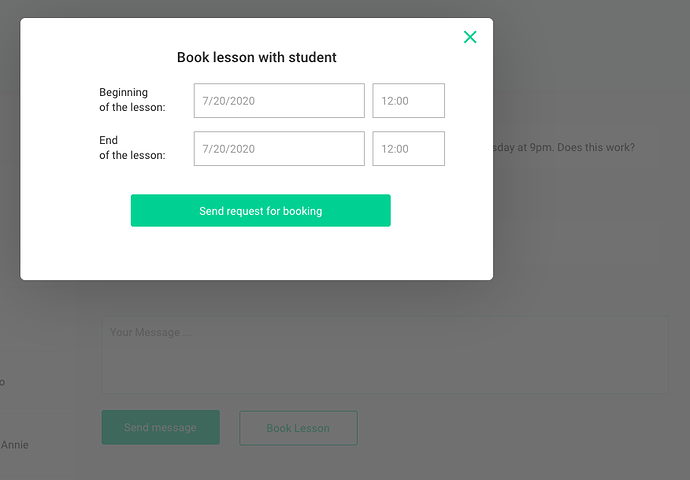 The customer then gets a new message with time/date of the service. They could the click on the text and be brought to a popup where they pay for the lesson (could use a conditional here).
Where I'm hitting a roadblock is linking the data in the first popup with the parent conversation group. Because it's a popup it doesn't seem to link to the conversation window.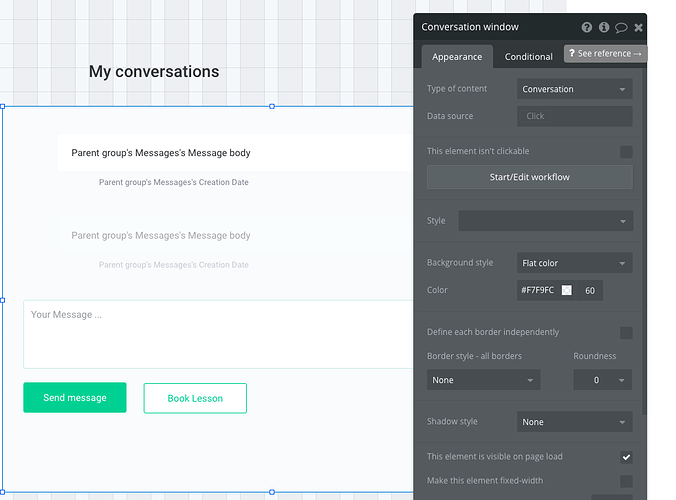 Any idea how I might take the data input in the popup window (second screenshot) so that it can be put in a message and added to the existing conversation?
Of course if there's a better way of making this booking flow work I would be delighted to hear it