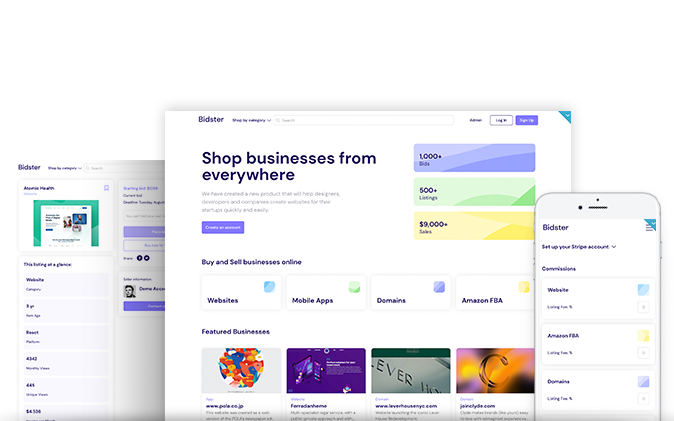 Hey, folks!
One of our top-selling templates has just received a total overhaul from our best devs. We've restructured and optimized workflows as well as rebuilt most of the UI/UX from scratch. Now it looks trendy!
We've also updated the template to the new Bubble Responsive Engine.
check it out here:
Bidster template is a no-code online platform where individuals can buy websites and online businesses. It is a buy-and-sell marketplace, much like eBay – but only for digital assets: websites, Amazon FBA businesses, apps, and domains.
Bidster allows anyone to list any digital asset for sale either at a fixed price or in an auction, and anybody can bid. Users can buy any site for sale as buyers.
Listing is easy, the seller should provide a description, screenshots, and some other details about the business being sold.
FEATURES:
Online website auctions & bidding
Buy it Now function
Responsive design
Payments powered by Stripe
Blocking funds on the bidder's credit card until the auction is over
Workflow to charge the highest bid and unblock the funds of all lower bids when the listing expires
Admin dashboard
Four listing types
Three types of bidding limits "Starting price", "Reserve price", "Buy now price"
Messaging
LIVE DEMO: https://flippaclone.bubbleapps.io/
DOCUMENTATION: Bidster - Auctions Like Flippa Template - Zeroqode Documentation - Zeroqode Docs
Ecaterina Cheptini
QA & Support @Zeroqode


No-code App Templates
No-code Courses
Convert Web to iOS & Android
No-code Development Services
No-code Cloud Backends