Hello, friends!
We're happy to announce that we finished updating our Createry - Memberships like Patreon | No-Code Template by Zeroqode to the new Bubble Responsive Engine. It's a fully-responsive app across any user device

Createry is a no-code template that affords for-profit, artistic, and cultural ventures to fund their efforts with recurring donations from their fans (supporters). In exchange for a monthly subscription, supporters get membership benefits like exclusive content and access to the creator's community.
The template works a lot like Patreon and is aimed at a broad range of creators: podcasters, photographers, writers, journalists, developers, video artists, musicians, visual artists, and others.
It provides an easy and simple way for them to connect with their fans (supporters) and get steady incomes from their content. It's a win-win solution as supporters can see where their contributions go, while creators can keep their fan base motivated and engaged.
FEATURES:
Landing page
Fully responsive pages
Recurring payments powered by Stripe
User dashboards
Admin panel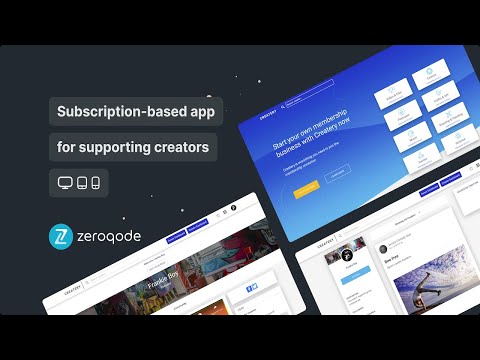 LIVE DEMO: https://patreon.bubbleapps.io/
DOCUMENTATION: Createry - Memberships like Patreon Template
Ecaterina Cheptini
QA & Support @Zeroqode


No-code App Templates
No-code Courses
Convert Web to iOS & Android
No-code Development Services
No-code Cloud Backends