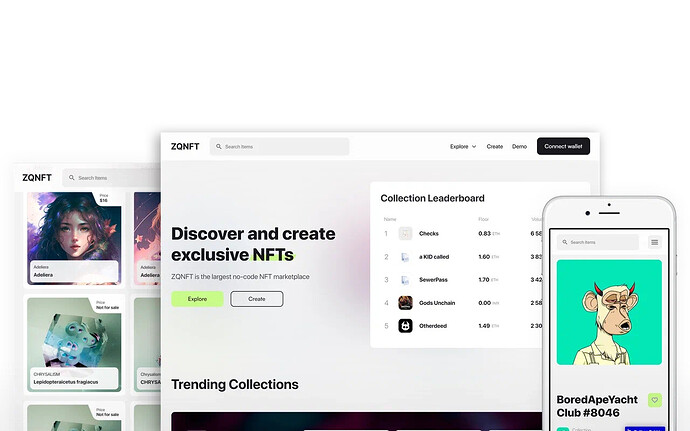 Non-fungible tokens (NFTs) give you ownership of artwork, videos, music, and other online collectibles.
We are delighted to introduce our new Crypto| NFT Marketplace | No-Code Template by Zeroqode



Our Crypto|NFT Marketplace is a no-code template you can use to create your own NFT marketplace.
This template allows digital art creators to turn their collections and creations into NFT, as well as showcase and mint their exclusive digital art. Buyers can bid or buy these assets for a fixed price (Buy Now) with the security of blockchain technology.
The template is highly customizable and ready to launch.
FEATURES :
Creating/burning NFTs
Sell NFTs/Remove NFTs from sale
Placing bids (Ethereum)
Adding NFTs to Favorites
Creating collections
Searching for NFTs/collections
Rarible API to fetch all the NFTs/Collections
Blockdaemon API to fetch collections by name (Ethereum)
NFT Port API to search NFTs by keywords
Pinata cloud service to store NFTs
What users (buyers/sellers) can do:
NFTs
View NFTs
Create (mint) NFTs choosing either lazy* or regular minting.
Burn the own NFTs
Sell NFTs
Remove own NFTs from the sale
Add NFTs to Favorites
Search NFTs by keywords, by owner address, by creator address
Place bids (Ethereum)
Buy now NFTs (Etherium)
Filter NFTs by blockchain
Filter transactions by blockchain, type of transaction
Collections
View NFT Collections/Trending/Leaderboard
Create a collection of NFTs
Search collection by name (Ethereum)& by contract
Search collection by Blockchain
To use the Crypto|NFT Marketplace template it's required to have and connect a Metamask wallet and use cryptocurrencies to pay for the purchases.
This template is using Login with Metamask, Metamask Advanced, and Pinata plugins by Zeroqode.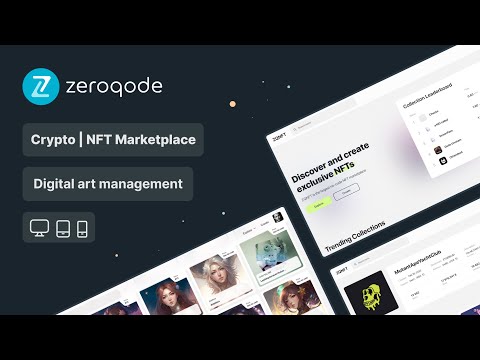 LIVE DEMO: https://zqnftmarketplace.bubbleapps.io/
DOCUMENTATION: Crypto - NFT Marketplace Template
I hope you will like it as much as we do!
Ecaterina Cheptini
QA & Support @Zeroqode


No-code App Templates
No-code Courses
Convert Web to iOS & Android
No-code Development Services
No-code Cloud Backends