Hello.
I'm using AWS File Uploader plugin.
The upload works fine, but there seems to be a problem with the reset input.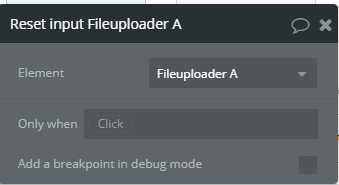 After I reset input in the workflow, I still keep the "list of filenames" and "URL of files" values ​​when I check the contents of the element. However, the Progress of files upload (%) is empty.


Is there a way to reset all the values?
Also, when I set the condition using the background style, I get the error "Property contains circular reference to this element". Is there a way around this error?