My Google Sheets & Charts Service typically works very well when I send data from my Bubble database to a Google sheet.
However, if that data contains a double quote (") it creates an error. I believe this is because the format for sending data to Google sheets using the Zeroqode plug in requires quotes to be around the data, such as ["data"].
What I have tried to do is to find any double quotes (") from items in my database and replace them with a single quote ('). For example, as shown in the screen shot below, I would like to replace "Batman" and "Hulk" in the first and third Topic fields to instead be 'Batman' and 'Hulk' . If the double quotes are replaced by the single quote, there will be no error when using the ZQ plugin to send date to Google Sheets.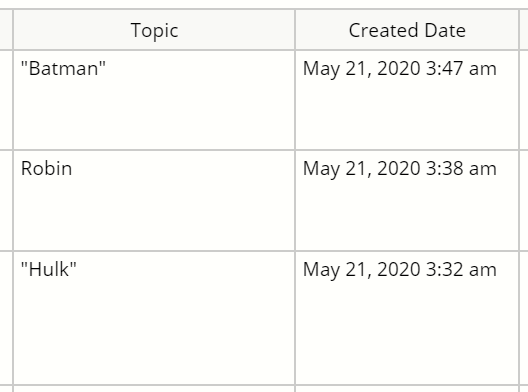 I have tried workflows Make changes to a thing and Make changes to a list of things , and also the Find & Replace operation, but I can't get it to work.
Any help or suggestions would be appreciated! Thanks.