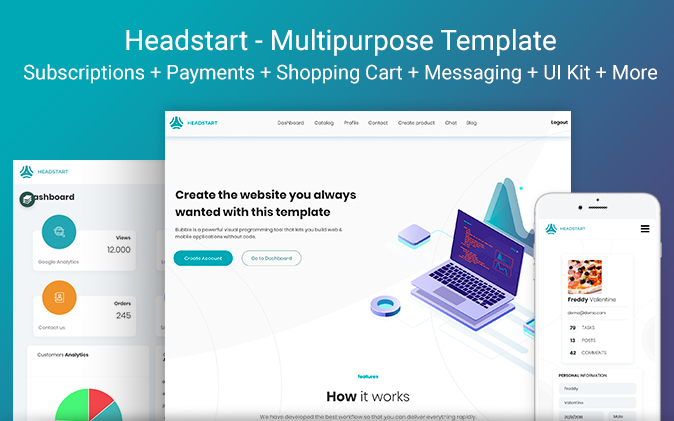 Hey Bubblers,
we have just finished doing a total redesign and packing all kind of additional functionality in our most popular template - Headtstart (136 installs).
One of the most demanded new feature is monthly subscriptions managed by Stripe. Now it comes part of the template. Besides, we have integrated Shopping Cart + Messaging and a lot of other exciting features.
Headstart is a multi-purpose no-code template with everything you need to launch your website quickly without code on the Bubble platform. Use this pack to get your "headstart" on launching your app by incorporating responsive design, a plug-and-play landing page, full catalog, product page, chat, blog, contact form, admin dashboard, user profile, and login pages as well Stripe checkout pages and payments for subscriptions.
FEATURES:
Responsive design
Landing page
Recurring and one time payments through Stripe
Catalog (includes product filtering by price, adding products to a shopping cart or to a wish list, search)
Product page
Messaging
Blog
Contact
Dashboard with big variety of visual elements
Dreambox
User profile
Login/signup pages
Huge set of UI elements like icons, buttons, paragraphs and many more.
Checkout
Live demo: https://uikitdashboard1.bubbleapps.io/
Please support us with a retweet
Levon Terteryan
Founder @ Zeroqode