Did you check plugin documentation?
I mean I'm already set it successfully. But, nothing shows up in my business Paypal account. So, where can I find the subscriber in Paypal?
Also, in your test page, when I use your sandbox account check out, the amount will not show up in Paypal page. Why did this happen? Cause when user wants to subscribe for our service, they need to know the amount of monthly fee.
Hello @pei.yu
Could post screenshots with more details? Did you check with Paypal support on where to find the Subscriber?
Not sure what you tested, here's the amount at the checkout in sandbox testing in screenshot below: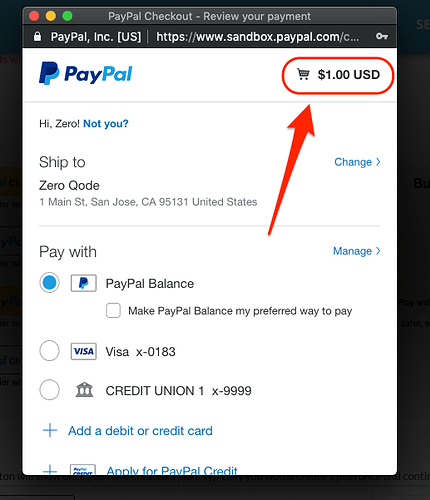 Regards,
ZQ Team.
Hi Dumitru,
Here is the screenshot when I use your test account testing subscription function.
I saw the setting in your editor page, the amount is 100 AUD. But why it does not show when I use your test account subscription. Also, I use real account test it, can't find any subscriber.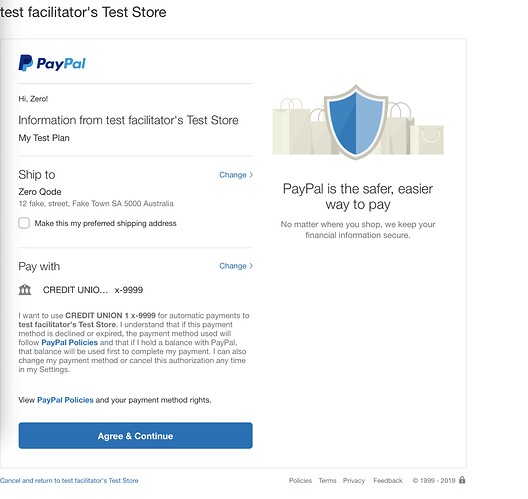 Hello, pei.yu
We'll check it, and update on the matter asap.
Thanks for understanding.
Hello, @pei.yu.
You tried following all the steps ? After confirming with Agree&Continue button there should be amount visible in next screen. Please try and see, thanks.
Regards,
ZQ Team.
I have the same problem there is no amount displayed, i have followed all the steps correctly multiple times.
@Dumitru Can you fix this please so i can purchase or stay subscribed, you are showing paypal button one off payment, there is nothing here to tell the user its a subscription/ reoccurring payment.
When i click agree & continue im not shown any amount or conditions like length of subscription, nothing about 1week trial. Then it redirects me back to my app and with a token still in the url.
Paypal said that you have most likely configured something wrong & addresses are not mandatory either. Subscriptions should show up on paypal business dashboard also.
I think i know why its not working, our applications are not live, we need to have a sandbox, paypal makes you do the most to get verified & might not want to use their api in the end. https://developer.paypal.com/docs/classic/lifecycle/goingLive/
Maybe you could make another separate plugin to compliment this one free of charge just for sandbox. There are some reasons why i dont want to use stripe and would prefer paypal even with all effort but i would like to run tests see it working so i can build around it.
Regards
Hello, @hfhfhfhhfh and everyone who's having trouble with it.
Let us check the functionalities of plugin and match with Paypal's latest changes, seems like they made some updates with usage of API calls to their system as of late.
We'll offer an update asap. It may take some time, though.
Thanks for understanding and patience.
This is great! Thank you.
Hey @hfhfhfhhfh! I've asked you already for Progressbar pro plugin and I'll repeat it here.
We wish to raise quality of our plugins as high as possible and the users help us a lot by leaving the reviews. Could you rate it by going to Plugins tab in Bubble editor? Find the Paypal plugin and give it as many stars as it deserves

It really matters for us!
Regards,
Olga
Hi Zeroqode support @Dumitru , i hope you are doing great , i am using paypal plugin and i am in the development mode ,what happened was when i click on the "paypal button , a loding pop up window display but it disappear after that , can you please tell me what i can do ?
-Kindly check the screenshot , it maybe not helpful but i have tried to show you what happened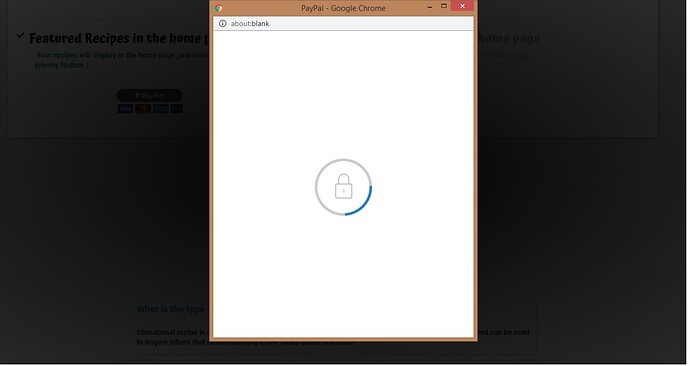 exactly
Hello @ciscotreasure , thanks for reaching us!
According to the information you gave us, it looks like it could be a pop-up or frame blocker that might block your window, please check it again in another browser and/or incognito mode.
We've checked on our side, and it opens fine.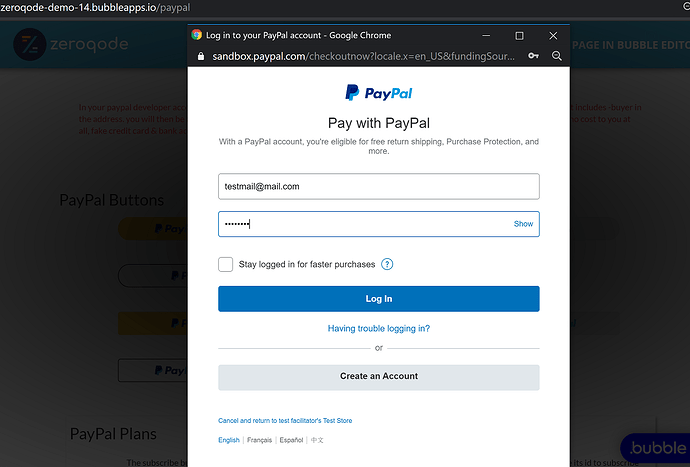 Hope this helps.

Best regards, Vitalie.