Can we dev a feature to add suffix and prefix for grid values too?
Hi @alexandrus, thanks for reaching out and for your suggestion.
I've added it to the plugin roadmap of possible improvements. The developer team will check how feasible it would be to add it in future plugin updates.
If any news becomes available, I will let you know asap.
Thank you for understanding.
Regards,
Hi @alexandrus, some good news here
We have pushed a plugin update, that has added the requested feature.
To check changes, please upgrade your plugin to the latest version (Version 1.13.0: Added "Format grid values" option.) and give it a try. To use it, check the following box: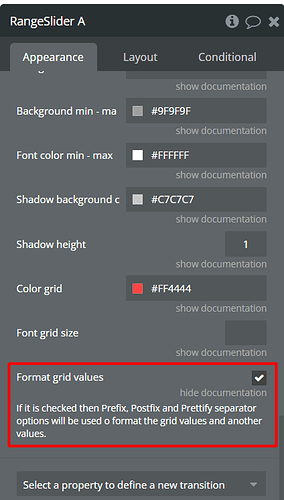 If there will be any other questions or suggestions on our products, please let us know.
Regards,
Looks good, thanks for fast update !!

@alexandrus, you're welcome

If you like our plugin, we would be grateful if you can rate it by going to the Plugins tab in Bubble editor. Find the plugin by name and gives it as many stars as it deserves

The more feedback we get, the more motivated we are to make things better in Bubble.
Regards,