We hosted 2020's Biggest No-Code Conference, and now we are back!
In just under a week we are launching our monthly Zero Code Series!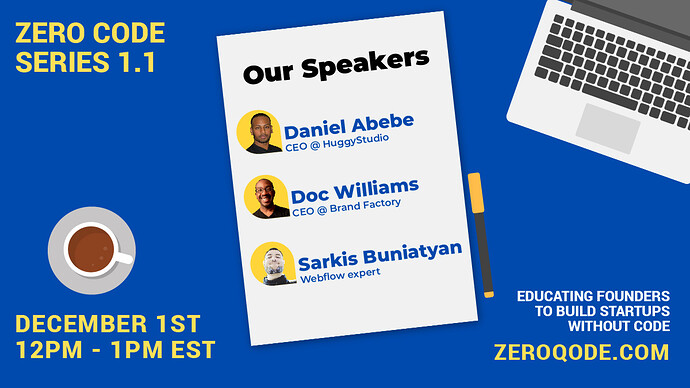 In our first episode, you will learn how to create startups without code. You will hear from a range of successful entrepreneurs on how they built apps with no-code and monetized their skills.
Speaker line-up:
Daniel Abebe - HuggyStudio
Doc Williams - Brand Factory
Sarkis Buniatyan - Webflow Expert
Vlad Larin- Series Host and Zeroqode Co-Founder
This event is FREE, but with limited spots. Sign up ASAP.
Date: Tuesday, 1 December 2020
Time: 9AM Los Angeles | 12PM New York | 5PM London | 6 PM Paris | 10:30PM Mumbai | 1AM (+1) Singapore
Levon Terteryan
Founder @ Zeroqode

Bubble Templates
Zeroqode Blocks
Bubble Plugins
Bubble Courses
Convert Web to iOS & Android
No-code Development Services