Hi,
Can you give some information of cost that we need to pay for monthly operation if I buy your template to up and run on Bubble platform?
Thanks
Trung
How much would Zeroqode charge to build a back end to this template to manage users and track data? If they don't do this, what's the level of difficulty in order to do it myself on Bubble?
@jordanbuddha this already exists, see screenshots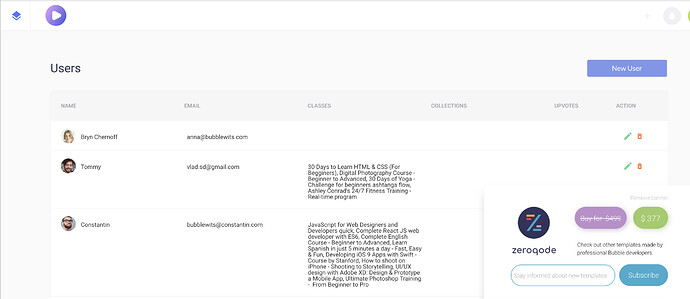 thanks so much for the speedy response!
How to add course and add student analytics for the backend dashboard.
Any suggestions?
Thanks in advance.
Hello, the courses are added by the user who is registered as an instructor.
As for the student analytics it all depends on what exactly you want to add.
Hi Levon,
Thanks for your quick response.
I am trying to provide at least the basic analytics compatible to Moodle or other LMS -
https://docs.moodle.org/35/en/Analytics
I am trying to add course - having problems of adding courses. Is it a bug?

Please help
.
Thanks,
Hello.
Let me guide you. As @levon said, the courses can be added by instructors (users) from instructor profile page and approved by administrator from the dashboard(there is a slider). (see images below)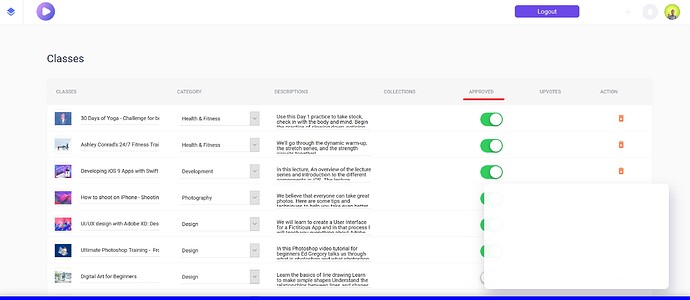 You could try it in our demo: https://udemytemplate.bubbleapps.io/
Regarding analytics there isn't a built in system which is provided the likes of Moodle in the current state of template.
Sorry for a delayed answer.
Regards,
Dumitru.
I'm interested in buying this template instead of using the template Evenbrite I've bought earlier.
But instead of Classes and courses I'd like to insert freelancers and businesses/clients who need something (similar to Fiverr) the seller creates a 'Course' but fully changed into a 'gig' and someone whose intrestered buy the gig and they get each other personal information like e-mail, adres, phone etc.
is this also possible? and is it possible to do this with ideal instead of Creditcard or Stripe.
and does whenever a 'gig' been bought by a client the money automaticly transfer to the freelancer/owner of the 'gig' ?
Thanks,
Jack
Hello @timelance Jack!
I believe you could use our Gigster Template, if you'd like your app to be similar like Fiverr - https://zeroqode.com/template/gigster---gigs-like-fiverr-template-1528379998754x397605644287344600
Check the live demo for it, see that it works as expected for you.
Also, so you know everything about our templates can be customized - design, workflows, database and all the settings like domain, SEO parameters etc.
This is done either by you or you could hire any freelancer or agency which could make the modifications.
Regards,
Dumitru.
how does the payments work on the template? does a seller insert there banking details and will it automatically update the button for a buyer to buy something ?
is it possible to pay with ideal ? and how does the service fee work?
the application does look very old and does it all work 100%?
Hello @timelance
Let me offer insight on the template, by answering the questions.
The payments work via Stripe Payment Gateway which provides for both seller to register as seller, and for buyer to simply buy products on platform, while Platform owner keeps the commission fee.
The seller will register as seller via Stripe Payment Gateway. Once a Seller is registered he can post products for selling and receive payment.
The template does not have iDEAL Payment integrated, however it could be integrated as option inside the template via Bubble's API Connector if iDEAL has an option to connect via RESTful API.
When buyers pay the sellers, platform owner will keep commission fee which is set via Admin Dashboard (split marketplace payments implemented through Stripe).
The design may look old I believe, but the app works as it intended however if there is something that does not work will provide fixes for issues.
Best,
Dumitru.
@alexander Thanks for helping me with the stripe issues on the other thread.
@zeroqode I wanted to post feedback here about the udemyclone… for the charge to the customer, I realized that the charge was converting it to a lesser number (instead of $105 it makes it $1.05) in stripe so I added *100 and it works better.


For the phone issue, if its a US number using 10 digits and adding the + sign helps it populate in stripe correctly.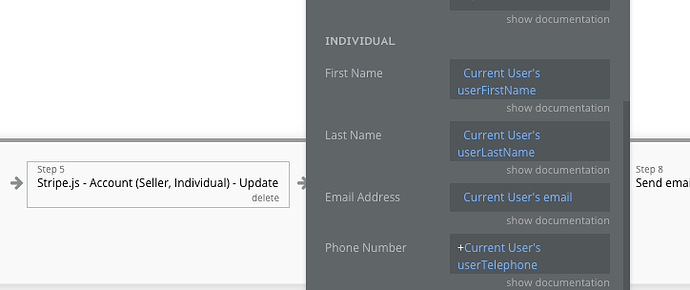 Question: How do I properly modify and add more categories and subCategories? And how is it connected to categoryClass and subCategoryClass? Seems like it can only be created in the Data and not on frontend? Please help.