Hello, friends!
We're happy to announce that we finished updating our UpListy - Upvote Listing | No-Code Template by Zeroqode to the new Bubble Responsive Engine. It's a fully-responsive app across any user device

Uplisty is a clean and powerful no-code template suitable for building a ranking website that allows users to create custom listings that they and others can rank and comment on. This template has a full dark mode.
You can use this template to build upvoting websites like Product Hunt, Nomad List, Betalist, or any other ranking website.
FEATURES:
Different mobile layouts & desktops for an optimal experience for your users
Max 3 upvotes if email not confirmed
Upvote comments & items
Zoom images
Comments per item
Submissions & comments only when the email is confirmed
Create accounts, log in, and resend the password
Animated custom menu
Account settings
Super quick search based on title, description, and keywords
Fully dark mode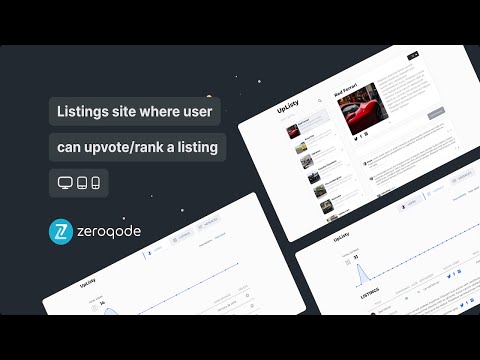 LIVE DEMO: https://listingapp.bubbleapps.io/
DOCUMENTATION: UpListy - Upvote Listing Template
Ecaterina Cheptini
QA & Support @Zeroqode


No-code App Templates
No-code Courses
Convert Web to iOS & Android
No-code Development Services
No-code Cloud Backends