Just installed it but there is no documentation on how to use it.
Hi, @stayshure!
Thanks for reaching out!
I am so sorry, we probably missed to post the "Live Demo" page. Apologies for the inconvenience. We have added the Live Demo on the plugin page, please take a look here.
The guidance on how to set up this plugin you can find the plugin element (see screenshot below).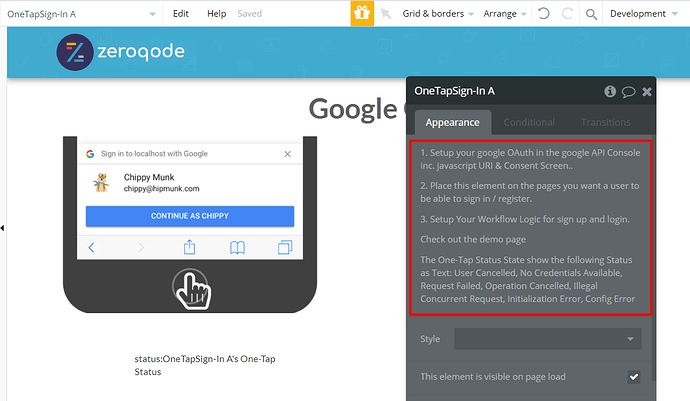 Once again I apologies

and appreciate your feedback! You help us become better!

Best, Julia.
Yes, it was the demo page I was looking for to understand how the token and validations work. Thanks!
Hi, @stayshure!
I have checked the plugin, and it seems to me, that there is a bug. Let us investigate this carefully and if has a bug we will fix it. Once I have the relevant info with regards to this situation, I'll get in touch. Thanks for understanding and pointing out to us about this error.

Best, Julia.
Thanks Julia. I was shocked to find that more people aren't using this with how good the promise of onetap is! It also seemed like a solution around the not being able to use one google-sign-in key for web & android & IOS- having a different plugin with a different API (google tap being for Android).
Hi, @stayshure!
It's been a while so apologies for the delay, but we've managed to fix the issue.
Please upgrade the plugin to the latest version, refresh your app and give it a try again.
Best, Julia.
Thanks Julia, we'll test it out