Bugs:
1. Scroll and focus
When you open a page with the RTE it automatically moves your screen position to it and puts it in focus.
It also seems to change the content, which triggers the "content is changed" workflow.
2. Pressing enter deletes stuff
All I'm doing in this GIF is pressing enter, that's it. Don't even have any "content is changed" workflows.

3. Pasting in things moves your screen position up
This also happens when pressing save sometimes. See video below
4. Initial content still overlaps sometimes.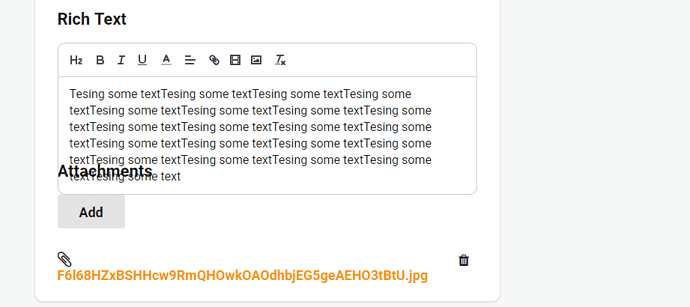 Feature Requests:
1. A Setting for Database Upload Resize Trigger Width and Compression.
Setting the resize trigger width, right now it is fixed at 1920. And the option to compress the image a set % on upload.
2. Dynamic Display Image Resolution and Compression
Right now it seems like it displays the full 1500px image on a 375px mobile, which causes it to load slower and waste data. It should rather show the image at a width close to the current RTE width dynamically. With the ability to set a compression %.
The default Bubble Image element does this by default, so would be nice to have it in the editor too.
Bugs and features that have been addressed:
Recently added (4):
Setting Icon hover color
Border roundness
Removing font size selection
Removing font selection

Recently fixed (4):
Insert picture or video is hidden.
Inserting an image causes it to overlap other elements.
Loading HTML initial content causes overlap.
Icon spacing